IFTS Autoescuela
TEST DE PRACTICA EN ESPAÑOL
All sessions must be completed.
If a student is late for any session, will have to repeat that session to complete the course and qualify for certification.  There is no charge for this.
Some dates may be changed depending on the demand or special circumstances such as emergencies, illness, or others. (It has never happened yet)
TEST DE PRACTICA EN ESPAÑOL
At IFTS we are proud to offer both English and Spanish in-car instruction as well as the only official Spanish version of the Alberta Drivers Handbook for easy learning, reference, and information.
This manual offers Spanish-speaking drivers to have a direct reference and handbook.
To inquire about prices, availability, and to place orders please click here.
Spanish: Debes mandar un cheque o "Money Order" por $ 55.00 a nombre de:
English: Please send a cheque or money order of $ 55.00 to:
$ 45.00 si vienes a recogerlo – $55.00 por correo
IFTS Consulting Corp.
# 1306 – 20 PATTERSON BLVD,. S.W.
Calgary, AB, T2H 1W9
Spanish: NO MANDE UN CHEQUE POR CORREO REGISTRADO, PUROLATOR, UPS U OTRO MENSAJERO !! SOLO DEJAN UNA NOTA EN LA PUERTA Y NO TENGO TIEMPO PARA IR A RECOGERLO – ES MAS RAPIDO POR CORREO REGULAR !!
English: DO NOT SEND A CHEQUE BY REGISTERED MAIL, PUROLATOR, UPS OR ANY OTHER COURIER !! THEY JUST LEAVE A NOTE ON THE DOOR AND I DON'T HAVE THE TIME TO GO TO PICK IT UP – IT IS FASTER BY REGULAR MAIL !!
Spanish: Asegúrate de colocar "DENTRO" del sobre un papel con la dirección completa donde mandar el libro !! Incluyendo tu teléfono para avisarte!
English: Please put INSIDE the envelope a sheet of paper with your name and COMPLETE address where to send it. Include your phone number to let you know!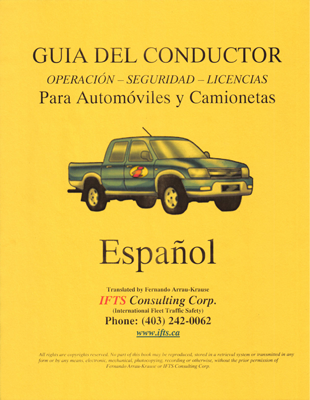 English: We will send the book the same day of receiving the payment.
Spanish: Hemos mandado muchos libros ya por correo y no demora mucho.
English: We have sent many books and it doesn't take too long.
Spanish: Hay algunas agencias de registro en las que tienen el examen teórico en Español.
English: There are some registries that have the theory test in Spanish.
Spanish: También puedes venir a buscarlo a mi casa u oficina en Calgary si te es
conveniente, pero para eso tendrías que llamarme antes al (403) 242-0062 para ponernos de acuerdo del lugar y hora.
English: You may also come to pick it up to my home or office with appointment only.
Gracias
Thanks
Fernando Arrau-Krause
IFTS Consulting Corp.
www.ifts.ca
(403) 242-0062
Calgary